In 2014, Apple was the only major mobile wallet on the market. But in 2015, Google and Samsung launched their own mobile wallets. Since that time it is possible to turn your mobile device into a credit card, which is a simple, quick and secure way to pay.
Business Insider's research service, expects in-store mobile payment volume to grow from $75 billion in 2015 to $503 billion in 2020, knowing that Apple Pay transactions are up 500% year on year, and the number of transactions in only september was the same number as the full fiscal year of 2015. Today, 15% of the consumers are using mobile payments in the US, 18% in the UK and 27% in Australia. But except for these 3 countries, where else can we use NFC (Near Field Communication) mobile payments? Here's the list.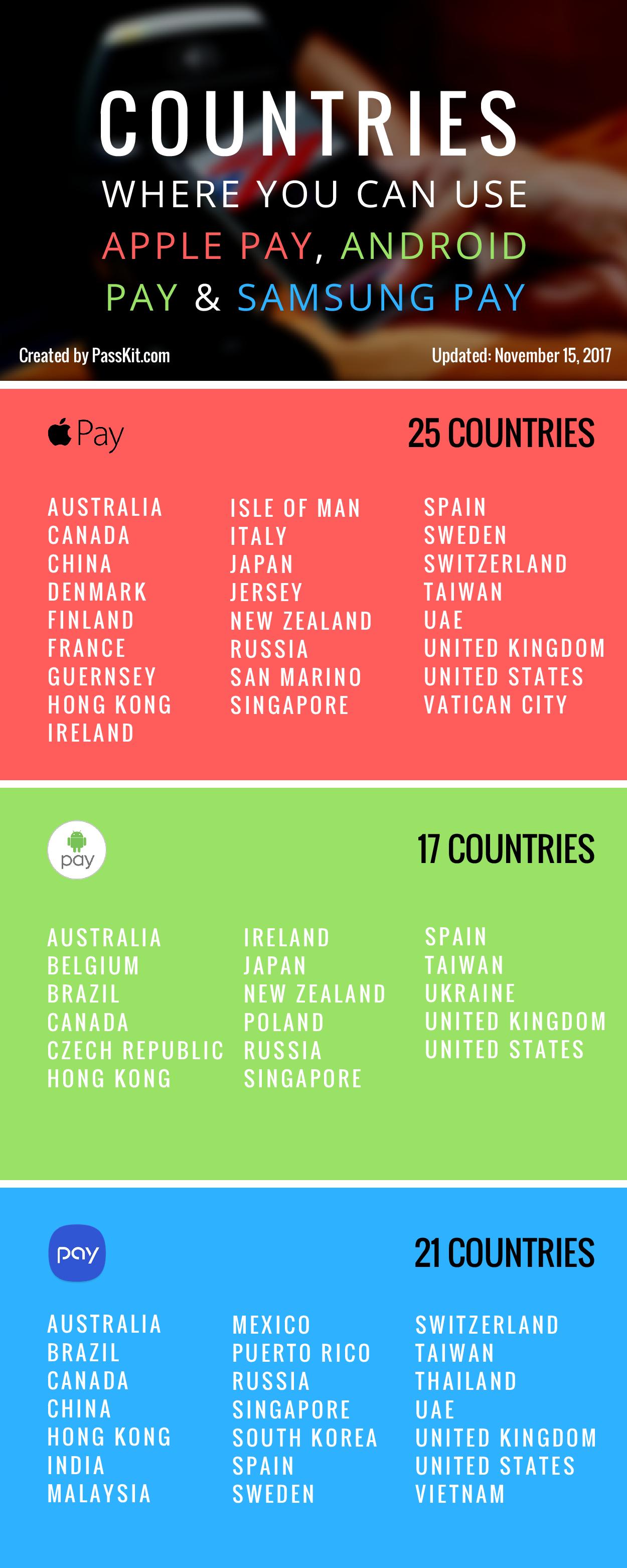 Countries that support Apple Pay
Australia
Canada
China
Denmark
Finland
France
Guernsey
Hong Kong
Ireland
Isle of Man
Italy
Japan
Jersey
New Zealand
Russia
San Marino
Singapore
Spain
Sweden
Switzerland
Taiwan
United Arab Emirates
United Kingdom
United States
Vatican City
Countries that support Android Pay
Australia
Belgium
Brazil
Canada
Czech Republic
Hong Kong
Ireland
Japan
New Zealand
Poland
Russia
Singapore
Spain
Taiwan
Ukraine
United Kingdom
United States
Countries that support Samsung Pay
Australia
Brazil
Canada
China
Hong Kong
India
Malaysia
Mexico
Puerto Rico
Russia
Singapore
South Korea
Spain
Sweden
Switzerland
Taiwan
Thailand
United Arab Emirates
United Kingdom
United States
Vietnam
Which devices support NFC payments? 
Devices that work with Apple Pay: 
iPhone SE
iPhone 5, 5C, 5S (Only if connected to Apple Watch)
iPhone 6, 6 Plus, 6S
iPhone 7, 7 Plus
iPhone 8, 8 Plus
iPhone X
Apple Watch
Devices that work with Samsung Pay:
Samsung Galaxy S3, S3 LTE
Samsung Galaxy S4, S4 LTE
Samsung Galaxy S5, S5 LTE
Samsung Galaxy S6 edge, S6
Samsung Galaxy A7
Samsung Galaxy Note Edge, Note 3 LTE, Note 3, Note 4 LTE, Note 4, Note 5 LTE, Note 5, MEGA
Samsung Gear S2, S3
Devices that work with Android Pay: 
Most Android 4.4 KitKat (or newer) devices that have near field communication (NFC) and host card emulation (HCE) capabilities, Here's the list :
Samsung Galaxy:
S3, S3 LTE
S4, S4 LTE
S5, S5 LTE
S6 edge, S6
A7
Note Edge, Note 3 LTE, Note 3, Note 4 LTE, Note 4, Note 5 LTE, Note 5, MEGA
Gear S2, S3
Sony Xperia™:
Z, Z Ultra, Z Ultra LTE
Z1, Z1 Ultra LTE, Z1 Compact
Z2, Z2 Tablet, T2 Ultra
Z3, Z3 Compact, Z3 Tablet Compact, C3
Z4+, Z4 Tablet
Z5, Z5 Compact, Z5 Premium, E5
X, X Compact, X Performance

XA, XA Ultra

XZ
LG: 
G Flex, Optimus G Pro
G2, G2 Mini
G3, G3 Beat
G4
G5
G Pro 2, Xpower 2
LG Watch style, LG Watch Sport, LG Watch Urbane 2nd Edition LTE
HTC:
HTC One M7, M8, M9, Max, E8

Desire EYE, 601, 626, 816

Nexus 9
Others :
TAG Heuer Connected Modular 45
Huawei Watch 2
Verizon24
Why mobile payment is worth considering 
Fear over security, is the key reason consumers hesitate to adopt mobile payments. But your mobile wallet is arguably the safest way to pay.
"For every transaction, [mobile wallets] create a random, one-time number — a transaction token — and even if someone was able to know that number, it's not valid later." says Jason Chaikin, president of biometrics security company Vkansee.
Plus, this kind of payment can earn you time and rewards like travel points or cash back.